Auf dieser Seite geht es um den Natura Blutholzsetzling. Für andere Verwendungsmöglichkeiten, siehe

Blood Sapling

.
Bloodwood Sapling


Modifikation
Natura
Typ
Nutzpflanze
Text der Kurzinfo
Lavaresistent
Wächst an der Decke
Der Blutholzsetzling ist ein Baumsetzling aus der Mod Natura. Der Blutholzsetzling wächst zu einem Blutholzbaum, welcher gefällt werden kann, um Blutholz und Blutholzblätter zu bekommen. Blutholzblätter droppen gelegentlich mehr Setzlinge und Redstone. Sie spawnen natürlich auf dem Dach des Nethers. Blutholzsetzlinge können in jeder Dimension wachsen. Sie können auf jedem normalen Block gepflanzt werden, auf dem normalerweise Setzlinge gepflanzt werden können, und auf Netherrack, Seelensand und Verdorbener Erde. Sie können nur verkehrtherum gepflanzt werden. Der Baum wächst 2x2, aber nur 1 Setzling wird benötigt.This sapling has no relation to the real world Bloodwood Tree.
Bekannte Fehler
Derzeit verhindert ein Fehler, dass die Setzlinge wachsen.
Trivia
Dieser Setzling hat keine Beziehung zumBloodwood Tree in der echten Welt.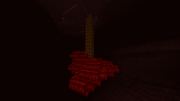 Natura
 

Welt

Bäume


 

Blutholz


 

Ahorn


 

Silverbell


 

Tigerholz

Beerenbüsche

Leuchtpilze

Anderes
 

Items

Beeren

Anderes Essen


 

Weizenmehl


 

Saguaro Fruit (Item)

Stöcke

Anderes
 

Werkzeuge

Geisterholz

Blutholz

Dunkelholz

Zündholz


 

Schwert


 

Spitzhacke


 

Schaufel


 

Beil


 

Kama


 

Bogen

Quarz


 

Schwert


 

Spitzhacke


 

Schaufel


 

Beil


 

Kama

Koboldhaut


 

Helm


 

Wams


 

Hose


 

Stiefel

Werkzeug
 

Blöcke

Holzblöcke


 

Eukalyptus


 

Japanische Blütenkirsche


 

Geisterholz


 

Hopseed


 

Mammutbaumrinde


 

Mammutbaumstamm


 

Mammutbaumwurzel


 

Blutholz


 

Dunkelholz


 

Zündholz


 

Ahorn


 

Halesia


 

Amarant


 

Tiger


 

Weide

Blattblöcke


 

Eukalyptus


 

Japanische Kirsche


 

Geisterholz


 

Hopseed


 

Mammutbaum


 

Blutholzblätter


 

Dunkelholz


 

Zündholz


 

Ahorn


 

Halesia


 

Amarant


 

Tiger


 

Weide

Holzplanken


 

Eukalyptus


 

Japanische Kirsche


 

Geisterholz


 

Hopseed


 

Mammutbaum


 

Blutholz


 

Dunkelholz


 

Zündholz


 

Ahorn


 

Halesiaholz


 

Amarant


 

Tigerholz


 

Weide

Türen


 

Mammutbaum


 

Eukalyptus


 

Hopseed


 

Japanische Kirsche


 

Geisterholz


 

Blutholz


 

Mammutbaumrinde

Nether


 

Hitzsand


 

Tainted Soil


 

Lohenschiene


 

Energetische Lohenschiene


 

Detektor-Lohenschiene


 

Aktivierungs-Lohenschiene


 

Netherofen


 

Respawn Obelisk


 

Seelenglas


 

Hitzglas


 

Blaze Hopper

Anderes


 

Formschnitt-Gras


 

Blaugras


 

Herbstliches Gras
 

Kreaturen

Kreaturen


 

Hitznarbenspinne


 

Baby-Hitznarbenspinne


 

Kobold


 

Nitro-Creeper