Biofuel Generator


Mod
Industrial Foregoing
Type
Machine
Properties
Blast resistance
15
Hardness
3
Liquid storage
8,000 mB
Energy
RF storage
1,000,000 RF
RF production
160 RF/t
Technical details
Registry name
industrialforegoing:biofuel_generator
Unlocalized name
tile.industrialforegoing.biofuel_generator
The Biofuel Generator is a machine added by Industrial Foregoing. It generates power when provided with Biofuel from the Bioreactor. Biofuel will produce 160RF/t, with one bucket (1,000 mB) of biofuel producing a total of 640,000 RF. About 28 Biofuel generators can be run from 1 Bioreactor running at maximum efficiency.
Recipe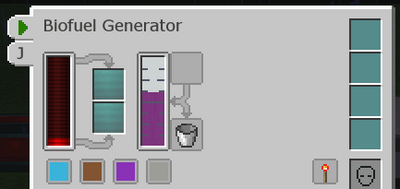 Industrial Foregoing
 

Blocks

Energy producers

Energy consumers

Other utilities

Conveyor Belt
 

Items

Tools

Components

Misc