Aquaculture 2 add new fishing rods to the game, the new fishing rods add various mechanics that improve your fishing capabilities. Improved fishing
Aquaculture add various mechanics that can boost your chances of catching something while your line is cast, for example, bait. You can use use bait to increase your chances of catching a fish.
Bait
You can obtain Leeches and Minnows by fishing, and Worms in a Worm Farm.
Fishing Rods
Hooks
Iron and Diamond: chance to not use durability.
Gold: Increased luck.
Light: casts further.
Heavy: casts shorter.
Double: chance to catch two things.
Redstone: longer opportunity to reel in a fish.
Note: audible alert when a fish is approaching.
Netherstar: chance to not use durability and increased luck.
Cosmetics
Aquaculture also adds various cosmetic items into the game to customize your fishing rods. Bobber
A dyeable bobber that can be dyed like leather armor.
Fishing Line A dyeable fishing line that can be dyed like leather armor.
Tackle Box
Aquaculture also adds a Tackle Box. In it, you can store all of these items and fish bait.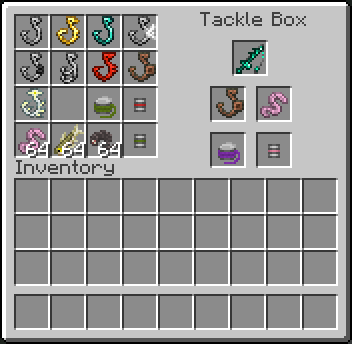 Aquaculture 2
Items

Tools

Neptunium

·  ·  ·  ·  ·

 

Fishing Rods

·  ·  ·

 

Fillet Knives

·  ·  ·  ·  ·

 

Armor

·  ·  ·

 

Fishing

Hooks

·  ·  ·  ·  ·  ·  ·  ·

 

Cosmetics

·

 

Baits

·  ·

 

Fish

Freshwater

·  ·  ·  ·  ·  ·  ·  ·

 

Arid

·  ·  ·

 

Freshwater

·  ·  ·  ·  ·  ·  ·

 

Saltwater

·  ·

 

Jungle

·  ·  ·

 

Swamp

·  ·

 

Mushroom Island

·

 

Twilight Forest

Anywhere

Misc.

·  ·  ·  ·  ·  ·  ·  ·  ·  ·  ·  ·  ·  ·  ·

 

Blocks

·  ·  ·  ·